I wanted to write you because of something wonderful that I think you should know about! It's called Letter Sparrow and it is a shop on Etsy that my friend Kelly Hollstrom started! Her work is seriously beautiful and since I've already purchased some gifts for friends and seen how adorable the stuff looks in real life I think its time I spread the word. Especially since today is the first day of autumn which means its only a matter of time until we are listening to Christmas music and wrapping gifts and eating cookies and drinking hot drinks and watching Santa Clause movies and...
oh my heart is getting SO exciting just typing about it!
So since you'll be buying gifts for loved ones here soon anyway you might as well get a head start and swing by Kelly's shop to order something lovely!
& you can also see her latest creations by following her on instagram: @lettersparrow


((The photo at the top of this post is from @ohmyprep who was doing some Letter Sparrow giveaways too so you should probably check her out while you're at it!))
Ps. She also designs my blog signatures!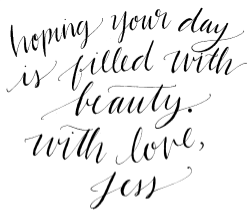 Here are some photos from Kelly's instafeed
along with a few items I bought for friends!